Boukurano review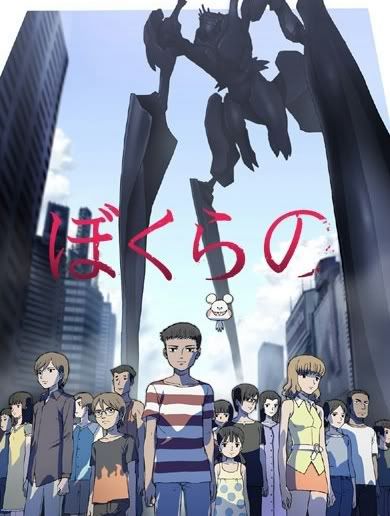 Final Rating: B+
Bokurano, while hiding under the guise of a a mecha anime not unlike Evangelion
is actually a slogging test of character closer to the Saw series
. In this anime, the main characters' sense of altruism is tested, as they battle other robots to save their earth while knowing that they themselves will die after the battle. It should be noted that to fight other robots is not a requirement at all. The pilot can even refuse to fight, but at the expense of his/her entire universe, as the battles are a way to erase whole worlds to "clean up" a main branch of space-time bullshit.
One thing refreshing about the anime is the way characters are built up then killed. Just as when the viewer is attached to a particular character (Mako (ep.10), in my case), they are called into battle and you know what happens next. However, this is where the problem of the series surfaces. It seems as if the anime itself is indifferent to the plight of their heroes, but anyway, we don't want individual mourning scenes for 15 people so I'll let it pass. It's just that the characters are treated as commodities, experimental subjects for the rest of the series rather than humans.
While this series is a test of altruism for the 15 pilots, Bokurano also features human selfishness. This is evident in both the pilots themselves and the political and military institutions of their country. While all of the pilots eventually fought and died immediately afterward, some of them did so for selfish reasons other than the desire to save the world. They also portrayed the government as putting effort not to solve the problem, but to look good. Their ballsy yet imprudent arrogance in thinking that their firepower is enough to take the behemoths down is an example of this, as well as the pursuit of technology they ultimately regretted.
Unlike some
raving reviews
about this series, the most I can give this series is a B+. Although definitely a good watch, it wasn't the all time favorite material some claim it to be, for two reasons. While the characters are in a way, developed, they are killed off before their stories are fully explored. This is a problem with all 15 of them, imagine if there were only 5 of them to explore in 24 episodes. Second, the series veered off midway through, turning into political intrigue when it wasn't really the wisest focus at that point. As a result, I also needed to adjust to it. While being fed battles during the first half of the series, I had to put up with the actions of corrupt politicians and meathead soldiers.
Overall, this is a good series, but there are some rough edges in it. Decent, but not legendary.